132 326
Arching over ALMA
High on the Chajnantor plateau in the Chilean Andes, the European Southern Observatory (ESO), together with its international partners, is operating the Atacama Large Millimeter/submillimeter Array (ALMA) — a state-of-the-art telescope to study light from some of the coldest objects in the Universe.
Atacama Large Millimeter Array - ALMA Radio Telescope, San Pedro de Atacama, Chile
Comments
No comments yet.
Be the first to comment on this wallpaper.
You may also like...
Publisher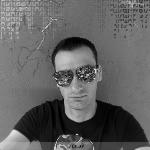 Rusu Ioan
Gender: male · Age: 28 ·
Web:
Publsher External Webpage
All pictures from here are re edited by me. Just a bit :))
22

22
2864
8082
3
10
Information
Category: Nature
Selection: Starry sky
Uploaded: 14th September 2020
Dimensions: 5120x2880 (5K UltraHD)
Tags
Wallpapers by Rusu Ioan
Beautiful wallpapers by Rusu Ioan publisher
Editors' selections
Wallpapers from 'Starry sky' selection